DESKTOP RASPBERRY PI ROBOT ARM
Based on robotics Raspberry Pi microprocessor and built in Ubuntu 18.04, myCobot 280 Pi quickly creates a perfect programming environment for robotic algorithm developing, ROS simulation, etc. It must be your first Raspberry Pi robot to learn robotics.
The robot arm Raspberry Pi with a series of open-source LINUX ecology system, Python drive library, myBlockly programming, extendable interfaces, etc. Start your Raspberry Pi AI robot programming journey in instant.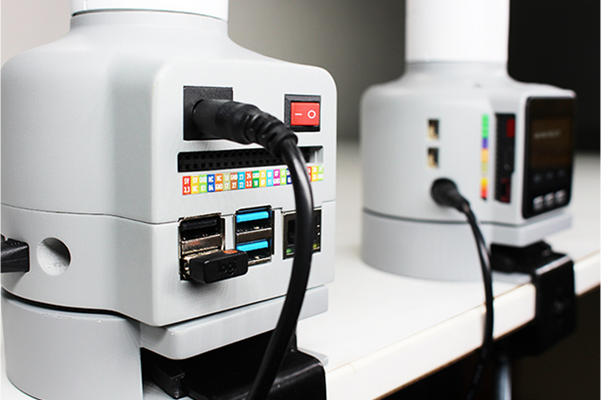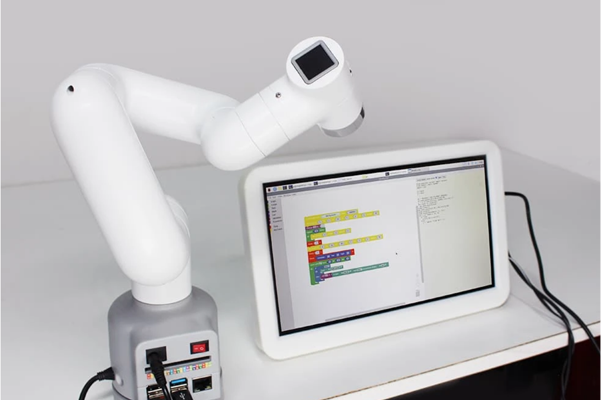 myCobot 280 Pi consists of Raspberry Pi native hardware interfaces, tens of end effectors, terminal LEGO pins with various sensors, colour visual tracking, QR cord&gesture recognition, Voice broadcast, etc. This Raspberry Pi robotic
arm will definitely lead you to a wonderful robot
programming world.
Raspberry Pi

Camera Support

USB*4

Drag&Teach

GPIO

ROS

Practical Teaching
myCobot Pi collaborative robotic arm is equipped with complicated and intelligent configuration, which highly satisfies
your demands of secondary developments.

Brained On Raspberry Pi 4B
The speed and performance of the Raspberry Pi 4B is a step up from earlier models in which myCobot Pi, the Raspberry
robot arm, gets more powerful computing competence and faster proceeding method.

CPU: 64-bit 1.5GHz 4Core (28nm)
GPU:Broadcom VideoCore vl@50OM
Easily learn to program myCobot Pi, robotic arm Raspberry Pi, in your style and start your robotics journey with pleasure.
Support Python, C++, C##, ROS, etc.
Expansive & Colorful Sensors
Built-in image recognition algorithm, compatible with any model cameras; choose your ideal monitors, grippers, suction
pumps,etc for different kinds of applications.
With a built-in ROS language, it's capable to simplify 6 DOF movements under Ubuntu18.04 System.
ER myCobot 280 Raspberry Pi Unboxing
myStudio is a one-stop platform for myCobot.
The main functions of myStudio are: 1) Update the firmware; 2) Provide video tutorials on how to use the robot; 3) Provide maintenance and repair information (such as video tutorials, Q&A, etc.).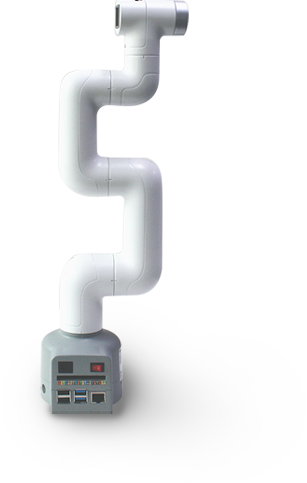 ER myCobot 280 Raspberry Pi

Bring it home with a discount for new customer