Bring Robots to Everyone.
Make the robot your excellent assistant, free you from boring repetitive work, and always focus on innovation
Established in 2016, Elephant Robotics is a Chinese high-tech company specializing in robot R&D, platform software development, and intelligent manufacturing services. Our name, derived from Lao Zi's "Tao Te Ching," reflects the importance of having a good vision. With a diverse product range including educational collaborative robots (myCobot/mechArm/ultraArm/myBuddy), commercial robots (P/C Serials), and companion robot pets (MarsCat and metaCat), we are committed to innovative solutions. Operating in over 25 countries, our goal is to lead the robotics industry by revolutionizing intelligent manufacturing, commercial applications, scientific research, education, and home companion, creating an "Enjoy Robots World" for all.
The world is constantly evolving, with rapid advancements in technology. Elephant Robotics aims to be at the forefront, bridging the present and future in the world of robotics. Therefore we strive our best to make people.

Enjoy
We are committed to enabling everyone to enjoy the
convenience and benefits
that robots bring.

Robots
We specialize in researching, developing, and manufacturing
robots, as well as providing
industry-specific solutions.

World
Our market presence extends
globally, with over 200 schools
using our products or
partnering with us.
Robotic Pets

Robotic Arms

Professional Robots

Robotics Education Solution
Robotic Pets

We have developed a futuristic electronic biomimetic pet that serves as both a companion and a source of emotional support. It can even develop its own unique personality over time, further enhancing the companionship experience.

Robotic Arms

Our range of robotic arms includes the myCobot series, ultraArm series, mcehArm series, and myBuddy. These arms are available in various sizes and offer a wide range of functions, making them capable of performing a majority of your daily tasks.

Professional Robots

We have been at the forefront of developing lightweight integrated industrial robotic arms that are cost-effective and prioritize safety. Additionally, our modular robotic arms feature multiple interchangeable joints, enabling customization to meet diverse factory production requirements.

Robotics Education Solution

This solution encompasses a wide range of components, including robotic arms, tutorials, and simulated scenarios. It enables students, even those with no prior experience, to quickly grasp engineering thinking and acquire essential robotic knowledge.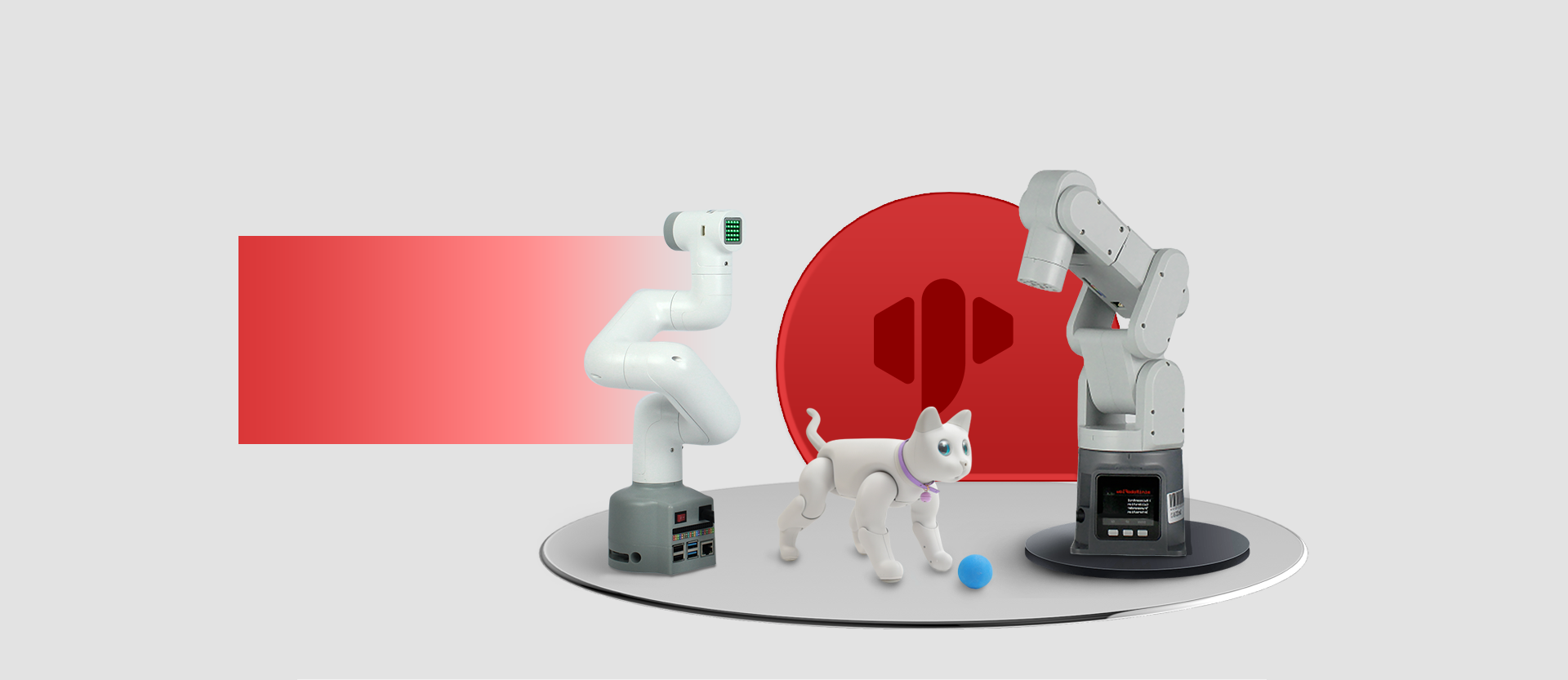 2016. 08
2016. 08
2016. 08
2017. 01
2017. 04
2017. 07
2017. 10
2018. 04
2018. 06
2018. 06
2018. 06
2018. 11
2018. 11
2019. 03
2019. 04
2019. 09
2019. 11
2019. 12
2019. 12
2019. 12
2019. 12
2019. 12
2020.05
2020.08
2021.03
2021.05
2021.07
2021.08
2021.08
2021. 11
2022. 03
2022. 04
2022. 07
2022. 09
2022. 09
2022. 10
2022. 10
2022. 12
————-
————-
————-
————-
————-
————-
————-
————-
————-
————-
————-
————-
————-
————-
————-
————-
————-
————-
————-
---
---
---
---
---
————-
---
————-
---
---
---
————-
————-
————-
————-
————-
————-
————-
————-
————-
————-
————-
————-
————-
————-
————-
————-
————-
---
---
Elephant Robotics formally established
Joined the HAX incubator and got the SOSV seed funding
We have started the research and development of the Elephant Series industrial collaborative robot
We were awarded the CES 'China's Most Innovative Company Top 10'
Two co-founders were selected by Forbes Asia as " 30 business elites under 30"
The fifth generation single-arm industrial collaborative robot Elephant 5 went public
Angel Round from Cloud Angle Fund
Elephant Robotics made its first public appearance in Hannover Messe 2018
Won the "MBA award for smart manufacturing ventures of CKGSB"
Won the "X-elerator award of Tsinghua economics and business entrepreneur accelerator"
Won the second place in the Asian intelligent hardware competition in Shenzhen
Received the "Gaogong golden globe most investment value award"
Won the "Gaogong golden globe award for leaders"
Catbot wins "Industrial Robot Innovation Award"
Attended Hannover Messe 2019 and Automation World 2019
Attended HUAWEI ECO-CONNECT EUROPE 2019 Eco-partner of HUAWEI
Attended the International Conference on Intelligent Robots and Systems (IROS) in collaboration with the Harbin Institute of Technology.
Awarded 2019"Gaogong Technology Innovation Award"
Awarded 2019"Gaogong Top 10 Fast Growing Companies"
Awarded "Technical New Star of Shenzhen Industrial Equipment"
Marscat, the world's first bionic pet cat, was created
The founders won the 2019 Shenzhen Robot Emerging Person Award
The world's smallest six-axis collaborative robot was created
The world's smallest commercial cobot-myCobotPro 320 was created
MarsCat was reported massively by Xinhua Finance, China Daily, Nanjing Daily, and other news media
The world's smallest compound robot chassis-myAGV was published
Showcased at the Maker Faire Shanghai and the iFLYTEK Global Developer Festival
Awarded the "Most Investable Enterprise" at the 10th China (Shenzhen) OverseasReturnees Entrepreneurship Conference
Achieved third place in the finals of the fifth China Electronics Innovation and Entrepreneurship Competition.
Heavy exposure from 36Kr and GeekPark on its lightweight professional robots
The bionic robot cat MarsCat entered mass production.
MarsCat and myCobot live-streamed the Spring Festival
A compact six-axis robotic arm, mechArm launched, empowering
Collaborated with iFLYTEK AI Classroom to develop robotics projects
Published a book on AI robotics about teaching students the basics of robotics and AI programming
Introducd myBuddy, the most miniature dual-arm collaborative robot
Featured on China Central Television (CCTV).

We are happy to work and share creative vision with our distinguished partners.