A Brandnew-Step for Industries
Innovative / Durable / Accurate
For High-Precision and High Quality Industrial Application
Elephant 5 features a payload of 5kg, a working radius of 810mm and repeatability of ± 0.05mm, it is a perfect robotic assistant for industrial manufacturing.With high precision and high flexibility, Elephant 5 can do some delicate work conveniently. What's more, Elephant 5 has a certain degree of rigidity because of its unique symmetrical structure. It can even complete the work done by some traditional industrial robots.
Different from the cantilever joint design of traditional cobots, the double support construction with better mechanical properties is adopted in the main stressed joints of Elephant 5.This symmetrical strcuture solves the problem of instability and it helps Elephant 5 to have a certain degree of rigidity. It can even complete the work done by some traditional industrial robots.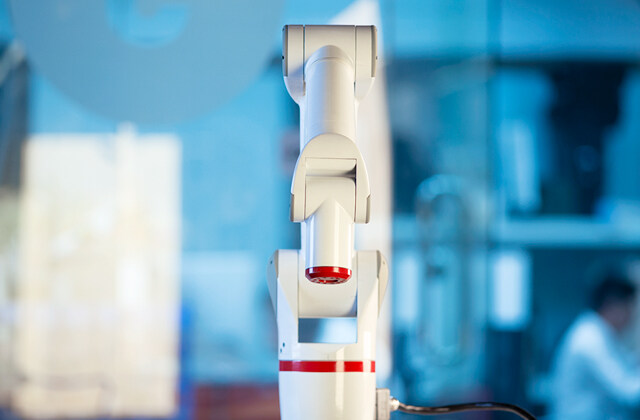 Combined with the body mechanical structure optimized by CAE technology and high performance components provided by top suppliers,  the repeat positioning accuracy and life of Elephant 5 is ensured.
Based on the efficient and exact collision detection algorithm, Elephant 5 can stop immediately when the slight collision is perceived. No need to install a protective barrier. Safety of personnel is guaranteed. Customized protection units are also accepted, such as Lidar, Light Curtains, etc.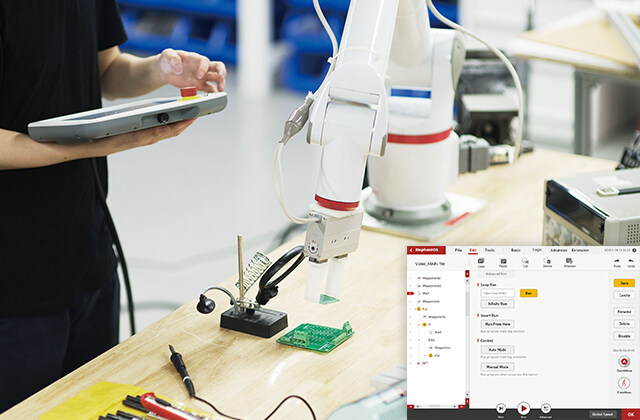 Elephant 5 is using the operating system "RoboFlow" developed by Elephant Robtics, which is easy to operate smoothly. What's more, the interface is simple and clear. Even a novice can quickly learn how to program. It also supports custom programming and secondary development.
Product Features
Repeatability

±0.05mm

Payload

5kg

Reach

810mm

Degrees of Freedom

6 axis

Operating Temperature Range

0-50℃

Typical Power Consumption

260W

Collaboration Operation

Test in accordance with: EN ISO 13849-1 PL d
EN ISO 10218-1: 2011-Clause 5.4.3

Programming Mode

Graphical programming

Weight

23kg

Movements
| | |
| --- | --- |
| Axis Movement Robot Arm Working Range | J1/J4/J6: ±180° , J2/J3/J5:±120° |
| Axis Maximum Speed | 225°/sec |
| Typical Tool Speed | 1m/sec |
Physical Properties
| | |
| --- | --- |
| IP Classification | IP42 |
| Noise | <70dB |
| Robot Mounting | Any angle |
| Dimensions Robot Base | φ180mm |
| Materials | Aluminium alloy,ABS,Rubber |
Elephant Robotics can help you achieve automation, improve your productivity, quality and safety level in a timely and cost-cutting manner.
Pharmaceutical and Chemical Industry
Education & Scientific Research
Elephant 5 has been applied in different situations by many companies, including  Global 500 Companies.
We are happy to work and share creative vision with our distinguished partners.








This manual describes the precautions for proper installation and use of the Elephant series robot.

Elephant 5 Specifications
The technical specifications of Elephant 5.

RoboFlow Operation and Programming Manual
This manual describes the issues to be aware of when operating and programming a Robot.